"Paintings Composed" was presented by the Gillespie Chamber Quartet and local musicians, artists and dancers. The concerts featured chamber works inspired by paintings, including work by Kaija Saariaho and Kyong Mee Choi; three premieres by Don Freund, Amos Gillespie and Seth Boustead. Other composers featured on the final studio recording include Hannis Brown, John Elmquist and Daniel McCarthy.
All the pieces balance dissonance and consonance in very interesting and individual ways – many of them left me with a sense of, "Wow, what cool thing is going to happen next?" From the evidence of this collection anyway, it seems like there's an outstandingly vibrant new music scene in Chicago. - Joshua Rosenblum, Conductor and writer for New York City's OPERA NEWS.
Track listing and Album Cover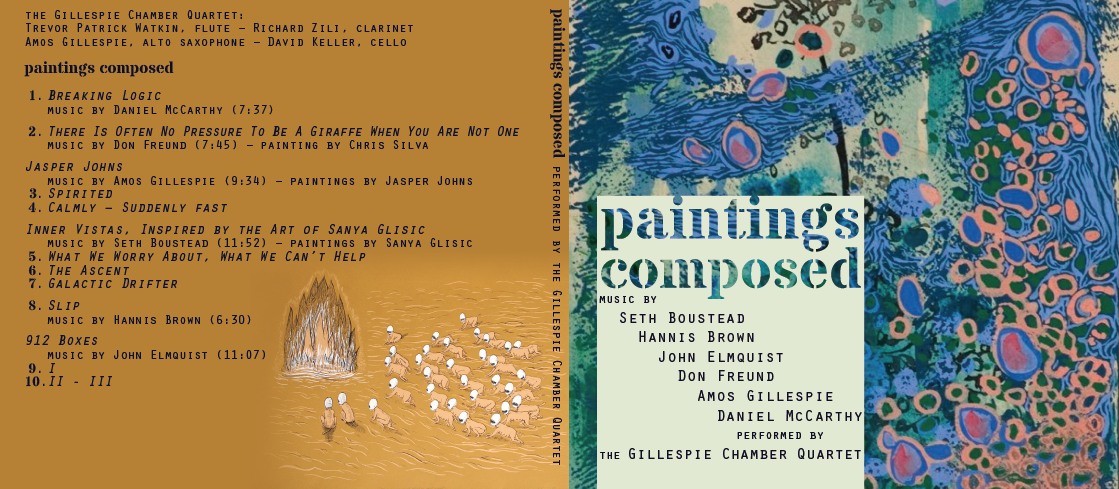 There Is Often No Pressure To Be A Giraffe When You Are Not One 
Notes and Credits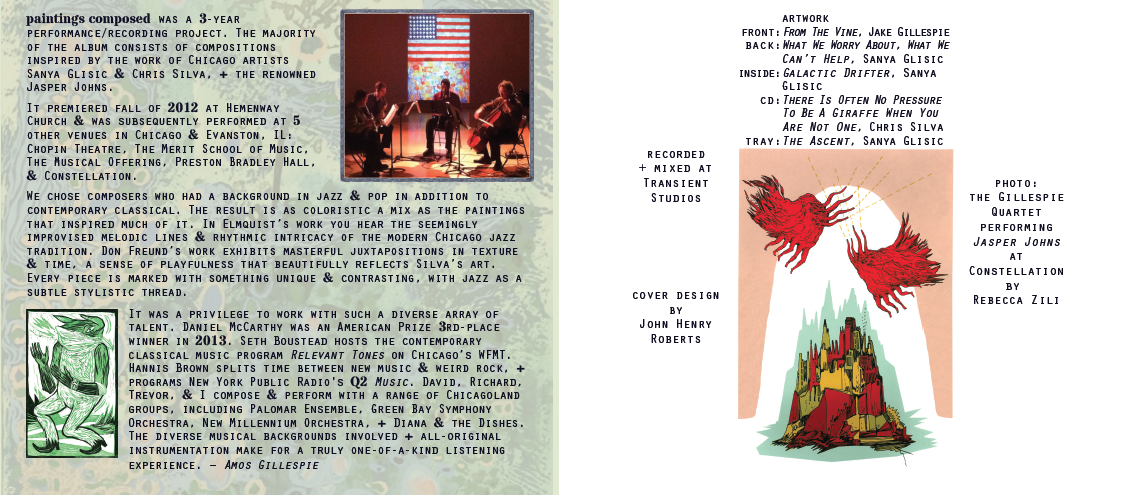 Paintings composed was a 3-year performance/recording project. The majority of the album consists of compositions inspired by the work of Chicago artists Sanya Glisic & Chris Silva, + the renowned Jasper Johns. It premiered fall of 2012 at Hemenway Church & was subsequently performed at 5 other venues in Chicago & Evanston, IL: Chopin Theatre, The Merit School of Music, The Musical Offering, Preston Bradley Hall, & Constellation.
We chose composers who had a background in jazz & Rock in addition to contemporary classical. The result is as coloristic a mix as the paintings that inspired much of it. In Elmquist's work you hear the seemingly improvised melodic lines & rhythmic intricacy of the modern Chicago jazz tradition. Don Freund's work exhibits masterful juxtapositions in texture & time, a sense of playfulness that beautifully reflects Silva's art. Every piece is marked with something unique & contrasting, with jazz as a
subtle stylistic thread.
It was a privilege to work with such a diverse array of talent. Daniel McCarthy was an American Prize 3rd-place winner in 2013. Seth Boustead hosts the contemporary classical music program Relevant Tones on Chicago's WFMT. Hannis Brown splits time between new music & weird rock, + programs New York Public Radio's Q2 Music. David, Richard, Trevor, & I compose & perform with a range of Chicagoland groups, including Palomar Ensemble, Green Bay Symphony Orchestra, New Millennium Orchestra, + Diana & the Dishes. The diverse musical backgrounds involved + all-original instrumentation make for a truly one-of-a-kind listening experience. – Amos Gillespie