The Gillespie Quartet performs compositions written specifically for them, in the flute-clarinet-alto sax-cello grouping, a completely original ensemble. They have premiered new work by composers Brian Baxter, Seth Boustead, Hannis Brown, John Elmquist, Don Freund, Amos Gillespie, Daniel McCarthy and many others. They've been seen at the Grant Park Festival for Illinois Musicians, Chopin Theatre, Merit School of Music, Musical Offering, The Preston Bradley Hall Sunday Salon Series and PianoForte. They've been praised with having high energy and a superbly balanced aesthetic for new music.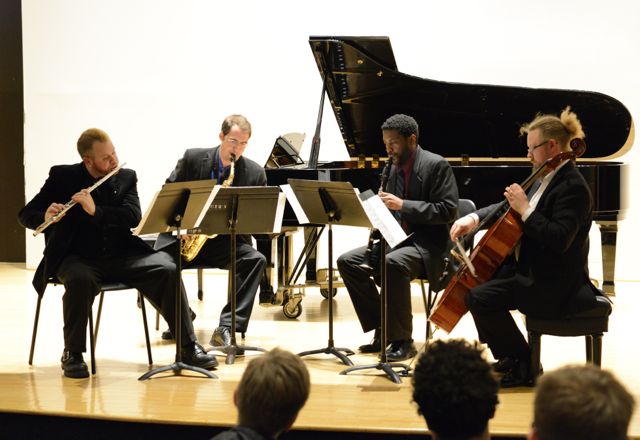 Trevor Patrick Watkin studied flute and composition at Point Loma Nazarene University with Jill Coady and Phillip Keveren, respectively, and the University of Colorado at Boulder with Elizabeth McNutt and Richard Toensing. He is an active flutist, vocal coach, and composer specializing in new works for the theatre, having provided music direction, sound design, and/or original music for numerous productions with The Right Brain Projectand received a Jeff Award for his musical score to Dream Theatre Company's world premiere of The Black Duckling. Trevor is currently involved with the Palomar Ensemble, Gillespie Quartet, Chicago Choral Artists, New Classic Singers, as well as various solo engagements throughout the Chicagoland area. 
Richard Zili has performed extensively as a freelance clarinetist in the Chicago area and beyond.  Comfortable in a variety of styles, Richard has played clarinet with symphony orchestras, new music chamber ensembles, jazz combos, and even rock and hip hop groups.  He's established himself as an accomplished orchestral musician, working with the Green Bay Symphony Orchestra, Illinois Valley Symphony Orchestra, American Wind Symphony Orchestra, Kishwaukee Symphony Orchestra, Lake Shore Symphony Orchestra, and Lakeview Orchestra.  Chamber music is a major focus for Richard as well; he has enjoyed exploring the contemporary and classical chamber repertoire with the Gillespie Quartet, the Palomar Ensemble, and various ad hoc groups.  Richard's interests lie beyond classical music; he plays with the 3.5.7 Ensemble – an experimental jazz collective – and amplifies his clarinet when playing with the Great Influence Machine, an 11-piece eclectic rock band.
Richard honed his diverse styles starting at age 10 when he first took up clarinet.  Throughout middle school and high school, he excelled in solo and ensemble competitions, participated in state festivals, and played in prestigious ensembles like the Chicago Youth Symphony Orchestra.  He earned his Bachelor's degree in Clarinet Performance at Northern Illinois University, under the instruction of Melvin Warner; he later received his Master's degree in Clarinet Performance from Indiana University studying with James Campbell.  His other teachers include Yehuda Gilad and Dr. Gregory Barrett. When Richard isn't performing, he's designing websites, trying (and often failing) to compose chamber music, or spending time with his wife, Rebecca.
Dave Keller An Iowa native, David received early instruction in piano, cello, and guitar.  After a music-filled upbringing he attended the University of Northern Iowa where he studied cello, composition, jazz, and music theory.  As an Iowa cellist he performed with the Waterloo/Cedar Falls Symphony Orchestra, the Oskaloosa Symphony, and the Cedar Rapids Symphony. David has been involved in many diverse musical endeavors in the Chicago music scene.  In 2009 he received degrees in music education and cello performance from Roosevelt University where he studied with members of the Chicago Symphony and Lyric Opera.  David has worked as a teacher, studio musician as guitarist and cellist, and with many theatres including Bailiwick Chicago, Theo Ubique, The Music Theatre Company, Pride Films and Plays, Harper College, and Morton College.
David explores numerous musical avenues such as rock, jazz, classical, new classical music, and improvisation and has performed at the Cultural Center, Green Mill, Double Door and the Old Town School of Folk Music. Currently David teaches piano, guitar, and strings at Access Contemporary Music and at the Academy of Music and Art in Westmont.  He is also the orchestra director at St. Edwards School in Chicago.